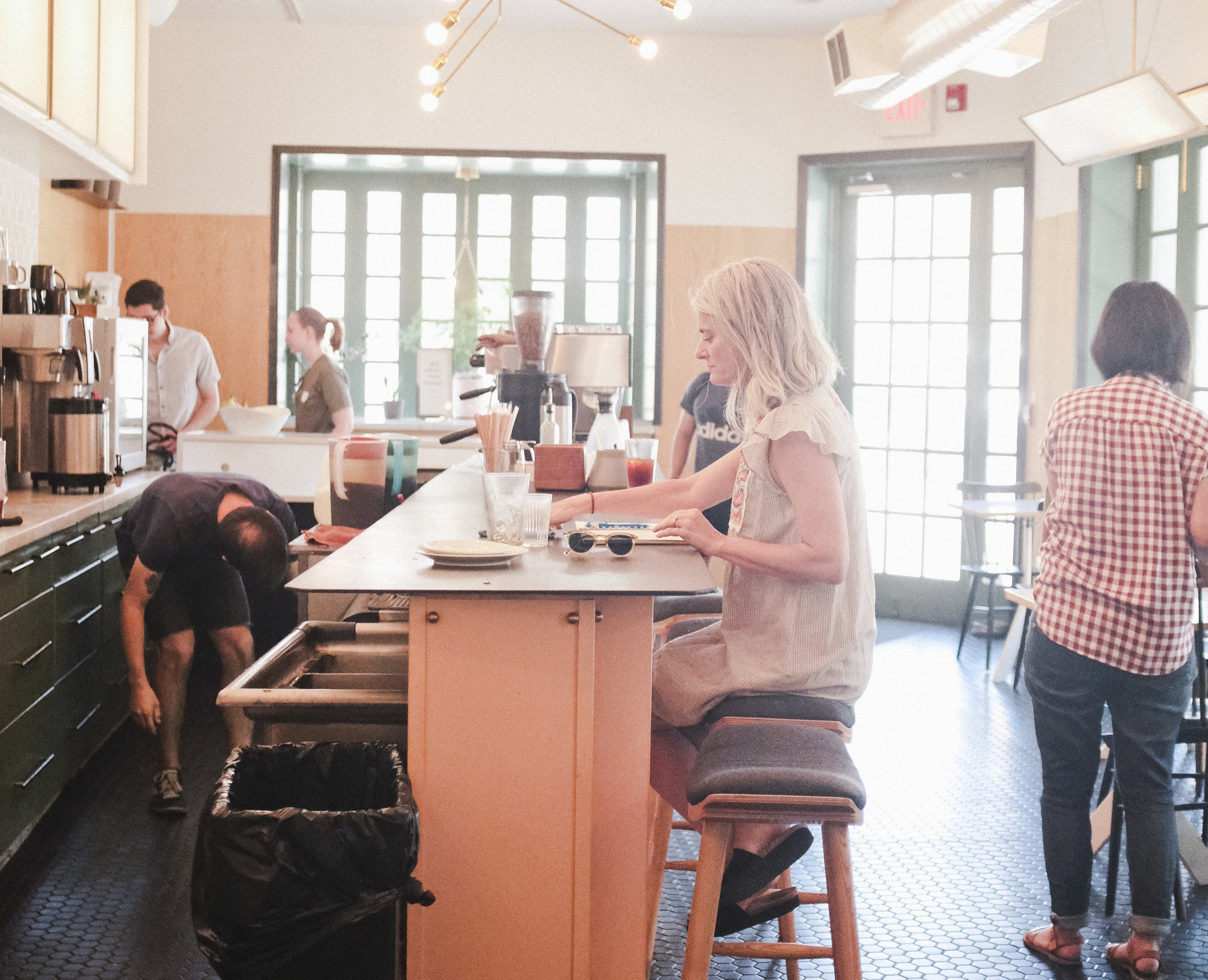 "Patience. Just understanding that there are going to be ebbs and flows and that's okay."
Meredith Waldman, founder and CEO of Rally
Meredith Waldman is the founder and CEO of Rally. Meredith started Rally, a creative agency and coffee shop, after a decades-long career working for others in a creative space. The process of going solo has been a financial adjustment, but her quality of life is better.
Did anyone in your life try to dissuade you from becoming an entrepreneur?
Oh, yeah. But for all of those who tried to talk me out of it, there was someone who was a cheerleader on my behalf. It was balanced. Honestly, I'm the biggest naysayer. I'll go through phases of wanting to look for a job again, wanting that paycheck. Not worrying about how I'm going to make my mortgage the next month. Then I have to re-remind myself of a different time.
I've had some mentors throughout my career that helped shape how I approached brand strategy and the importance of relationships in brand building. I'm at the point in my career when I could use more mentorship. A challenge of being on my own is not being exposed as easily to mentorship opportunities.
How is your work-life balance?
I came to exhaustion. When you hit rock bottom, the only way to go is up. I couldn't keep going at the pace that I was going or I would just collapse. It shook me up enough to realize that there's a way to create boundaries.
What would make you feel as though you accomplished what you set out to do with Rally?
It's kind of just "happening." I'd love to sit here and say I'm an entrepreneur with a business plan and five-year-goals. But I'm figuring it out on the go, which is how I figured out a lot of things in my career. Go headfirst into the fire. Sometimes falling down, but getting back up. Problem solving is a huge part of working with brands, so I do it for myself.
What drew you to a vision for Rally?
Rally came about from wanting to do things differently in the agency and creative services world.
It wasn't a "last straw." It just happened. I left my last agency for a personal life change. I moved to Philly and took a job quickly at an agency that was different. But it wasn't a right fit either. I wanted to recreate the agency model. The physical manifestation, the coffee shop, was an "accident," as I like to call it — an experiment that I want to believe in. Rally the coffee shop was an embodiment of the environment that was conducive to the type of work I wanted to do with my clients. People can comfortably work on their own terms. It's all about providing experiences.
Did you have any fears about becoming an entrepreneur?
The biggest struggle is that for almost 20 years, I got paid to think big, think outside the box, and not worry about budgets, or what the rules are — I had the creative freedom to think big. The hardest part of having my own business that's a big idea in-and-of-itself is that I'm not getting paid to make it happen. To make it happen, I need investment.
It was scary, even today. It's just the uncertainty of it all. It seems pretty obvious, but the main difference is [that] when you're employed by somebody, there's a level of security that's much greater than when you're working for yourself. There are new sorts of responsibilities that I didn't have when I worked for someone else.
"When you hit rock bottom, the only way to go is up."
Meredith Waldman, founder and CEO of Rally
What are some of the challenges of being an entrepreneur?
Being a one-man show is the challenge. To me, great brands and great companies are the sum of a lot of people. One person can spearhead it all, but I never wanted to do it by myself. I'm always looking for like-minded people who have the same traits to grow this thing. I can't do it all by myself. Not to pat myself on the back, but I'm good with knowing what my strengths and what my weaknesses are. Even when I was hiring teams at the agency, I would hire people who complement each other's weaknesses and strengths. I find people to complement each other when building a team.
There are good things that have happened. I'm way less stressed. My quality of life is much better than it was when I was working in agencies. At that time in my life, I was truly a workaholic. Experience and age have helped me find that balance.
What has been your biggest sacrifice?
To be vulnerable and honest, it was a huge adjustment financially. Entering my 40s and making less than I made in my 20s and 30s was a lifestyle shift. I'm happier and my quality of life is different, but I'd be lying if I said it wasn't an adjustment.
What's the most important lesson you've learned as an entrepreneur?
Patience. Just understanding that there are going to be ebbs and flows and that's okay.
This interview has been lightly edited from an in-person conversation for clarity. Capturing Lightning is a project from Woden, a strategic storytelling agency in Philadelphia that helps organizations articulate who they are and why people should care. To learn more about how to tell your story, visit us at wodenworks.com.